我司一类原创新药AI-011系靶向人VEGF的单克隆抗体注射液,目前已完成治疗晚期实体瘤安全性与药代动力学的1期临床研究。
AI-011(原Affecizx、hPV19、阿伐珠单抗)是一种特异与人血管内皮生长因子(VEGF)高亲和力结合的人源化单克隆抗体。Affecizx(hPV19)结合VEGF的抗原位点(表位)不同于目前市售的抗VEGF单抗药物Bevacizumab(商品名Avastin, Roche/ Genentech公司产品)。体内外研究结果表明,Affecizx (hPV19) 的生物学活性比Bevacizumab(Avastin)强6-8倍。
在Affecizx(hPV19)单独给药治疗难治性晚期实体瘤患者的临床1a期研究中,Affecizx(hPV19)表现有良好的安全性和耐受性(未出现DLT,也未达到MTD),并业已呈现出令人鼓舞的单药抗肿瘤活性。Affecizx(hPV19)联合化疗治疗晚期实体瘤的安全性/有效性的临床1b期研究目前正在进行中。
1.1 Background: VEGF与肿瘤血管新生(angiogenesis)
血管新生或增生(angiogenesis)在肿瘤的发生发展、与转移扩散中起着关键作用:伴有血管新生的肿瘤增长快速、易转移且预后差。血管内皮生长因子(vascular endothelial growth factor,VEGF)是已知的最重要及最强烈的促血管新生的物质 [1-2]。VEGF在多种恶性肿瘤组织中(如结直肠癌、胃癌、肝癌、肺癌、肾癌、乳腺癌、脑瘤、卵巢癌及宫颈癌等)呈过度表达[3-5],且其表达水平高低与肿瘤生长与转移复发程度呈高度正相关[5]。近年来国内外一系列临床前研究及多项临床试验已证明如通过基因调控或给予VEGF拮抗剂如人源化抗VEGF单抗药物Avastin[6]来阻断体内VEGF及其受体(VEGF-R)介导的促血管增生,则可导致肿瘤组织缺血坏死,从而达到抑制肿瘤生长和转移及延长患者生存期的良好疗效[7-10]。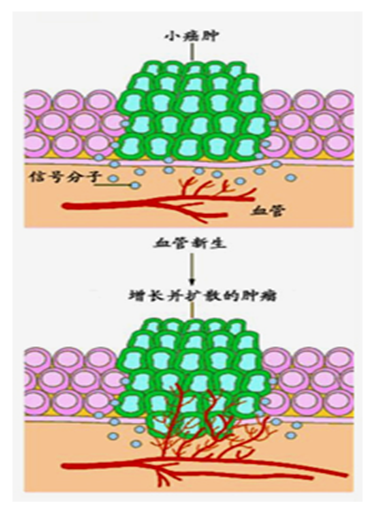 Fig.1 Angiogenesis and tumor growth
1.2 Mechanism of anti-VEGF mAb-based drugs such as Affecizx (hPV19) or Avastin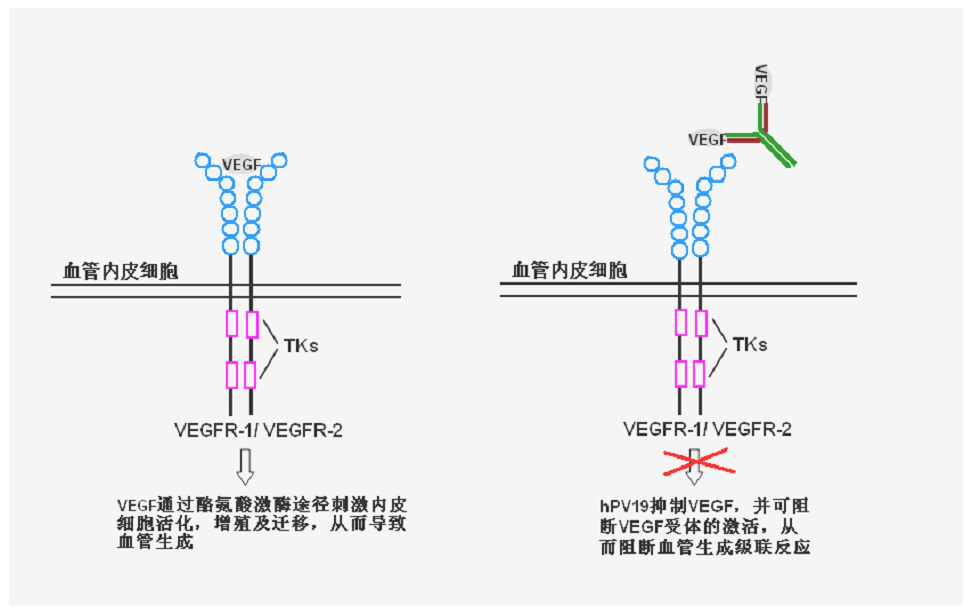 Fig. 2 Binding of VEGF by mAbs such as Affecizx or Avastin blocks VEGF binding to its receptors (VEGF-R1, VEGFR-R2) on endothelial cells, which in turn, leads to inhibition of angiogenesis and tumor growth
1.3 The heavy-chain and light-chain variable region of Affecizx (hPV19)has novel amino acid sequences (Fig.3), and hPV19 recognizes and binds to VEGF antigen at a unique site, which is different from that of Avastin (bevacizumab)
Fig. 3 Comparison of amino acid sequence of the light-chain variable region of mAb PV19 (precursor of Affecizx) with that of mAb A4.6.1 (precursor of Avastin)
1.4 The bio-activity of Affecizx (hPV19) is more than 6-8 fold stronger than Avastin (bevacizumab)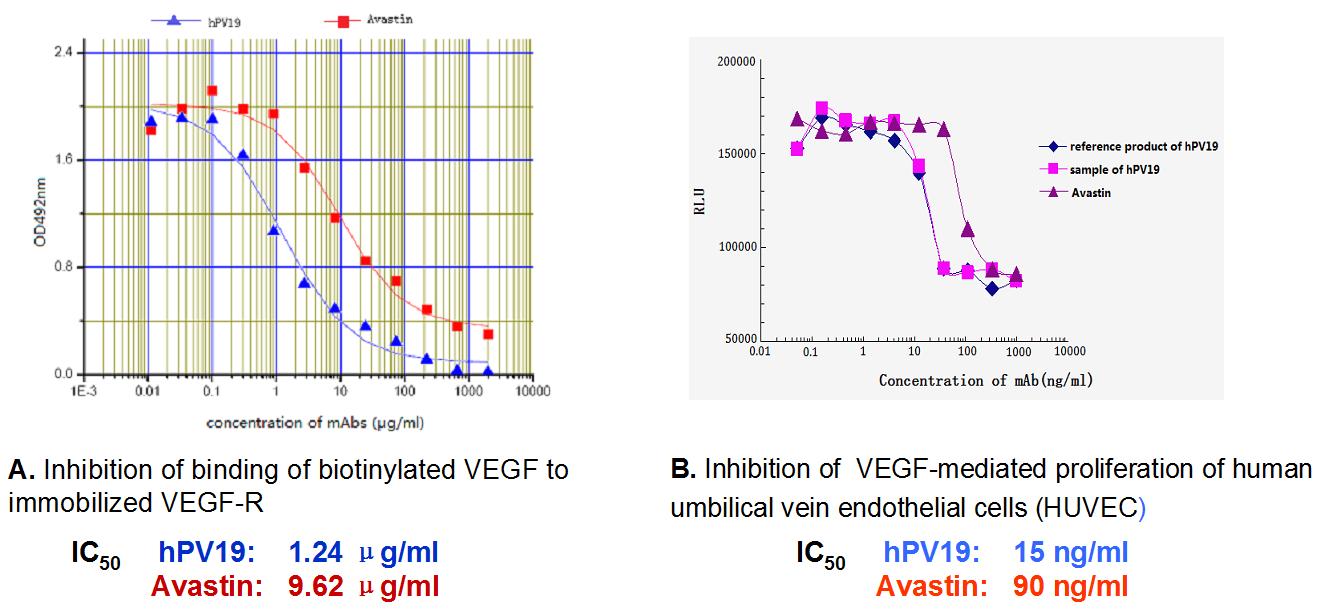 Public presentation on the study of Affecizx (STW-hPV19): ASCO2018
References
1. Leung DW, Cachianes G, Kuang WJ, Goeddel DV, and Ferrara N: Vascular endothelial growth factor is a secreted angiogenic mitogen. Science. 1989, 246:1306-09.
2. Carmeliet P, Ferreira V, Breier G, et al. Abnormal blood vessel development and lethality in embryos lacking a single VEGF allele. Nature. 1996, 380:435-439
3. Dvorak HF, Sioussat TM, Brown LF, et al. Distribution of vascular permeability factor (vascular endothelial growth factor) in tumors: concentration in tumor blood vessels. J Exp Med. 1991, 174: 1275–1278.
4. Brown LF, Berse B, Jackman RW, et al. Expression of vascular permeability factor (vascular endothelial growth factor) and its receptors in adenocarcinomas of the gastrointestinal tract. Cancer Res. 1993, 53 :4727-4235.
5. Takahashi Y, Kitadai Y, Bucana CD, Cleary KR, Ellis LM: Expression of vascular endothelial growth factor and its receptor, KDR, correlates with vascularity, metastasis, and proliferation of human colon cancer. Cancer Res 1995, 55:3964-3968.
6. Ferrara N, Hillan KJ, Novotny W. Bevacizumab (Avastin), a humanized anti-VEGF monoclonal antibody for cancer therapy. Biochem Biophys Res Commun. 2005,333:328–335.
7. Gordon MS, Margolin K, Sledge GW et al.: Phase I safety and pharmacokinetic study of recombinant human anti-vascular endothelial growth factor in patients with advanced cancer. J Clin. Onco.l 2001, 19:843-50.
8. Margolin K, Gordon MS, Holmgren E, et al.: Phase Ib trail of intravenous recombinant humanized monoclonal antibody to vascular endothelial growth factor in combination with chemotherapy in patients with advanced caner: pharmacologic and long-term safety data. J Clin. Oncol. 2001,19:851-856.
9. Fairooz Kabbinavar, Herbert I. et al. Phase II, randomized trial comparing Bevacizumab plus Fluorouracil (FU)/Leucovorin (LV) with FU/LV alone in patients with metastatic colorectal cancer. J Clin. Oncol. 2003, 21:60-65.
10. Herbert Hurwitz, Louis Fehrenbacher, William Novotny, et al. Bevacizumab plus Irinotecan, Fluorouracil, and Leucovorin for Metastatic Colorectal Cancer. N Engl J Med. 2004, 350:2335-2342.